Friday 13th October 1.00pm – 4.00pm
"Thinking about perinatal risk in a multi-agency context. What type of risks attracts attention from which services? How do different professionals understand what babies are saying and how they try to help?"
Speaker: Rebecca Carr-Hopkins
Rebecca will use videos and case examples to challenge the audience to think about what types of risks are most likely to attract professional attention and how this might differ across different professional groups.
Ticket Information:
Members: £15
Non-members: £25
Tickets are limited to 50.
Venue
PSS, Connect Business Village, 24 Derby Road, Liverpool, L5 9PR
Click here for visitor information
Refreshments provided.
Speaker Bio
Rebecca Carr-Hopkins
Director: Independent Social Work Matters Ltd.
Rebecca qualified as a social worker in 1996 and has over thirty years experience of working with children and families. She has worked independently since 2007 and has substantial experience of providing expert opinion to the family courts in respect of risk and parenting issues.
She is one of the UK's best trained experts in attachment and is authorised to teach a range of the developmentally sequenced attachment assessments tied to the Dynamic Maturational Model (DMM) of Attachment and Adaptation. This includes the Infant CARE-Index which is the 'gold standard' tool for assessing relational risk in dyads with infants under 15 months.
She delivers these trainings locally, nationally and internationally. Alongside this specialist training, she frequently delivers introductory training on attachment and adaptation to social care and health workers.
She also delivers training on parenting capacity assessments, supervision, direct work with children, thresholds and courts skills for social workers and provides clinical supervision to a range of professionals, including workers in perinatal services.
She is also a trained Video Interaction Guidance (VIG) guider, supervisor and training. Almost all of the VIG work she delivers and supervises is with families with infants or pre-schoolers in a child protection or family court context. She is commited to strengthening parents' capacity and their relationships with their children in order to reduce risk.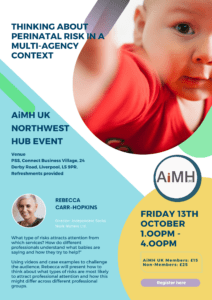 Join AiMH UK and your local hub to develop your knowledge, skills, and confidence, and access a wealth of specialist information on the AiMH UK website.
Sharing expertise on how we work with infants and their families increases the effectiveness of our work.
Become a member
We're using easyfundraising, a free fundraising platform that allows us to earn free funding when you shop or book personally or professionally online.
For everything you buy or book online, we will receive money directly from the retailer – so it doesn't cost you a penny.
Easy Fundraising