POSTPONED – Friday 27th January 2023 11.30am – 1.00pm – A new date will be announced shortly
The AiMH UK Annual Awards and AGM including an interview with Dilys Daws discussing her new book – Quietly Subversive: The Selected works of Dilys Daws
We are delighted to annouce that our founder and honorary trustee, Dilys Daws will be joining us at our Annual AGM and Awards to discuss her new book: 'Quietly Subversive: The Selected works of Dilys Daws'
Quietly Subversive gathers together a selection of pieces written by Dilys Daws covering her 50 years of pioneering work as a child psychotherapist. The book represents the extensive and varied contributions that she has made to the field of psychoanalytic child psychotherapy and infant mental health.
The book will be of interest to all those working with parents and children – including doctors, health visitors and social workers as well as child psychotherapists and child psychoanalysts.
We are also giving away a copy of her book to one lucky attendee!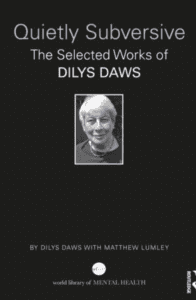 Following Dilys Interview we will be presenting the AiMH UK Awards to the champions of Infant mental health in 2022.
If you wish to nominate someone, require further details about the awards and bursaries click here
Closing date for nominations is Friday 15th January 2023.
Ticktets
Members – Free
Non-Members – £20
The AiMH UK Awards 2022
AiMH UK offers three awards in recognition of individuals from the UK who made important contributions to the infant mental health community in the course of their careers.  
From 2022 we are also offering an additional award to a team in the UK who are working together to make a significant contribution to meet the emotional needs of infants in their community.  
We invite nominations from the fields of health, mental health, early care and education and early intervention.
Please submit your nominations with the required materials: 
A 250-500 word statement indicating why the nominee should receive the award

 

A copy of the nominee's resume or brief biography.

 

Two letters of support who endorse your nomination.

 
Please submit all nomination materials to Lin Carruthers @ info@aimh.uk by Friday 15th January 2023 
AiMH UK Bursaries 2022 -2023
The bursaries were introduced with the funding kindly given by the Aim Foundation and will continue as part of AiMH UK's commitment to supporting practitioners working with the most vulnerable families across the UK. 
The AIM Foundation IMHCPD Awards Programme is offered to 10 practitioners and will include AiMH UK membership for a year and access to the IMH CPD System to build their infant mental health portfolio and gain access to the AiMH UK IMH Recognition Register. 
To nominate or apply please submit a your bio and description of your work to info@aimh.uk by Friday 15th January 2023.
Join AiMH UK and your local hub to develop your knowledge, skills, and confidence, and access a wealth of specialist information on the AiMH UK website.
Sharing expertise on how we work with infants and their families increases the effectiveness of our work.
Become a member
We're using easyfundraising, a free fundraising platform that allows us to earn free funding when you shop or book personally or professionally online.
For everything you buy or book online, we will receive money directly from the retailer – so it doesn't cost you a penny.
Easy Fundraising